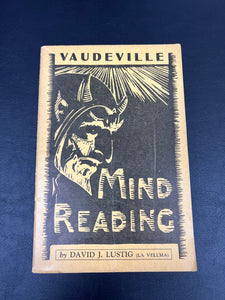 PUBLISHER/MANUFACTURER
Magic World Publishers
FORMAT/BINDING
Paperback

CONDITION

Used

DESCRIPTION

Dunninger's "behind the scenes man," David J. Lustig, describes a whopping twenty mind reading systems, second sight acts and entertaining psychic experiments in this book - each one carefully described in detail. Learn to be an effective psychic entertainer! The collection includes:



Methods of so-called Crystal Gazing
A Musical Silent Thought Act
A Crystal Gazing Act for Club Entertainers
Electrical, Phonetic and Silent Codes
The Blindfold Drive
The Chess Knight Tour
Publicity Stunts
Voice Culture
Answering Catch Questions
and other valuable and instructive chapters.


Includes a supplement entitled "Gambols of the Ghosts" - a complete two-hour presentation, introducing demonstrations in Mysticism, Mental Telepathy, Occultism and kindred, weird and startling Pseudo-Psychic Phenomena, winding up with a novel Crystal Gazing performance. This entertainment will meet the approval of all advanced entertainers, especially the performer who wishes to carry only a limited amount of paraphernalia.