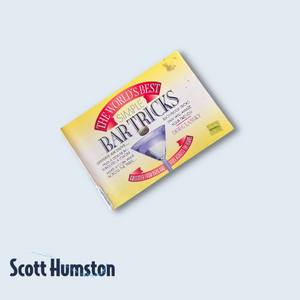 PUBLISHER/MANUFACTURER

Dell

FORMAT/BINDING
Paperback

CONDITION

Used

DESCRIPTION
Prepare for an exhilarating time with a delightful assortment of bar tricks, guaranteed to keep the party alive for hours!

Immerse yourself in the enchanting world of magic as you uncover the secrets behind each trick, such as the mind-boggling "healed" broken matchstick, the perplexing moving cigarette, the astonishing liquid handcuffs, and the intriguing "can-you-line-them-up?" three-glass challenge. With this collection, you'll have access to 50 entertaining illusions, brain teasers, games, gimmicks, and uncanny phenomena, all of which demand little to no physical skill to perform.

When conversations wane, food supplies dwindle, or boredom creeps in, you'll be the life of the party, ready to spark excitement. Armed with everyday items like coins, glasses, and a napkin, along with the insider information provided in this extensive and captivating guide, you'll possess everything needed for exceptional amusement at any time and in any place!