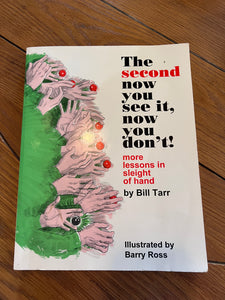 PUBLISHER/MANUFACTURER

Vintage Books USA(December 1st 1978)

FORMAT/BINDING

Soft Cover 

CONDITION
Like new 
DESCRIPTION
Once you have learned the effects in the first volume of this series you are ready for the second! Dazzle your friends with complete routines including:

- Cards on Ceiling
- Cards through Handkerchief
- Vanishing Salt Trick
- Coins through Table
- Okito Box
- Copper-Silver Transposition
- 4-Ace Location
- and many more!
Illustrated by Barry Ross. This is another good intermediate text on manipulative magic. The book relies heavily on the good illustrations by Barry Ross, and provides minimum but necessary text to describe moves and technique. Most effects are one to two pages, with most of the page taken up by the illustrations. Each effect or sleight is marked by a star system, one star denoting simple moves.