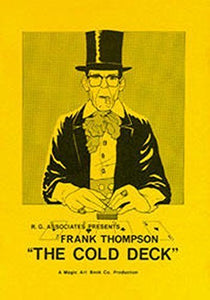 In good shape. No tears. Original Printing/First Edition. ©1976 by the Magic Art Book Company (Ray Goulet) A collector's item..and great material!
From Penguin Magic:
This fantastic manuscript details "the Cold Deck, " an incredible effect performed by the late great Frank Thompson.
Effect:
The performer starts out by producing 4 ACES which are revealed from four different parts of the deck in a startling array. The aces are openly put onto the deck, then with a convincing shuffle and cut the performer deals 5 hands of poker and He/She ends up with the 4 ACES in his/her hand! At this point, the performer and the spectator shuffle the cards which are then cut and immediately dealt in another 5 handed poker deal in which the performer receives poker's best hand, A ROYAL FLUSH. In the concluding effect of this routine, the deck is cut into four piles where face up and face down cards are openly shuffled into one another and with one simplified move the deck is ribbon spread and the cards are shown to be FACING ONE WAY! This effect is a stunner!
Easy to perform
A strong effect using an ORDINARY DECK OF CARDS!
Four effects in one!