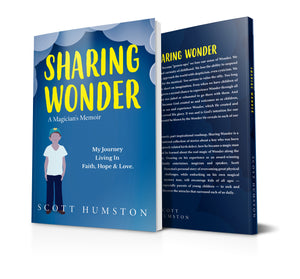 I think you're going to love it.
I am excited! After five years of writing, thinking, and editing, here are some moments from my life that I hope impact yours in a most encouraging way.

Through MY story, I hope YOU will:
-Rekindle a passion for living in & experiencing Wonder.
-Laugh. I think you'll laugh a lot. 😂
-Cry. You'll tear up some. It's okay; I did, too. 🥲
-See the Wonder in YOUR everyday.
-Be encouraged by the Wonder that God is writing in YOUR Story.
Part memoir, part inspirational roadmap, Sharing Wonder is a conversational collection of stories about a boy who was born with a speech-related birth defect, how he became a magic man and what he learned about the real magic of Wonder along the way. Drawing on his experience as an award-winning family entertainer, magician, and speaker, Scott Humston's personal story of overcoming great physical challenges, while embarking on his own magical mystery tour will encourage kids of all ages — especially parents of young children — to seek and discover the moments of Wonder that surround each of us daily.