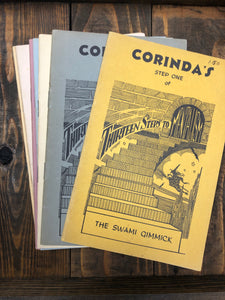 13 Steps has become a classic text on Mentalism.  This collectible bundle includes 9 of the original texts. Each booklet is in good shape. The material in these is still very workable (for the most part) and the rarity of these original booklets is a treasure. 
Step One-The Swami Gimmick
Step Five-Blindfolds & X-Ray Eyes
Step Six-Billets
Step Seven-Book Tests and Supplement
Step Eight-Two Person Telepathy
Step Nine-Mediumistic Stunts
Step Ten-Card Tricks
Step Twelve-Publicity Stunts
Step Thirteen-Patter and Presentation 
So, this bundle is missing: 2,3,4 & 11.