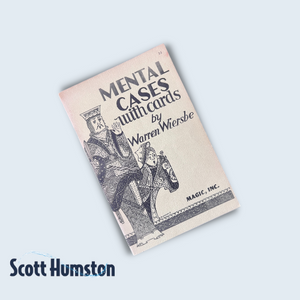 PUBLISHER/MANUFACTURER

Magic Inc.

FORMAT/BINDING
Paperback

CONDITION

Used

DESCRIPTION
 

Prepare to be enchanted by a captivating assortment of card tricks that take a unique turn – each one a mental marvel! Behold a treasury of mesmerizing close-up mental effects woven seamlessly into the realm of playing cards.

Contained within, you'll find an array of thought-provoking wonders:



"A Change in Number": A transformation that defies logic.
"Fantispell": Spellbinding mind-reading that astounds.
"Pasteboard Affinity": A magical connection between cards and minds.
"Packet Prediction": Anticipating the impossible with an alluring twist.
"Miracle Do as I Do": A synchronized miracle that transcends expectation.
"In My Estimation": An estimation beyond the ordinary, leaving spectators stunned.
"Blindfold Poker": A game of mental prowess that dazzles.
"Double Separation": A separation of minds and cards that defies explanation.
"Superstitious Mentalism": Merging superstition and mentalism in an unforgettable performance.
"Peek!": A glimpse into the extraordinary, revealing secrets hidden within minds.
"Divination Supreme": Unveiling secrets with a supreme touch of divination.
"Card Illusion": An illusion that dances between reality and imagination.

This collection is more than just tricks – it's an expedition into the realm of mental magic interwoven with playing cards. Each effect promises to captivate, astonish, and leave your audience in a state of wonder. Whether you're an adept mentalist or a curious novice, these card tricks with a twist will undoubtedly enhance your repertoire and elevate your performances to a new level of enchantment.