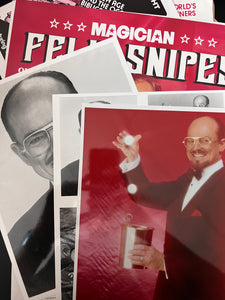 PUBLISHING/MANUFACTURER

NDE, INC

FORMAT/BINDING




CONDITION

NEW


DESCRIPTION

Felix Snipes was a professional magician & evangelist of the Gospel of Christ.  For more than thirty years, he toured churches in America with his Wonder-Full Weekend events. He was booked four years in advance! He was one of the very first touring magicians to use full-color promotional materials. This packet contains sought-after promotional pieces for magi-historians & current Gospel performers.

This pack includes full-color photos, posters, and more.