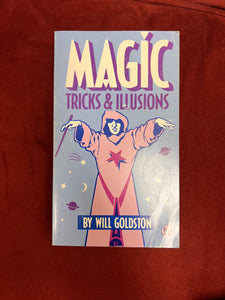 PUBLISHER/MANUFACTURER

Tuttle Pub 



FORMAT/BINDING
Paperback
CONDITION

Used

DESCRIPTION

Of enormous importance to the field of amateur magic, Magic: Tricks & Illusions feature over 250 feats and tricks. All routines are outlined and illustrated, with a springboard of derivations offered for the ambitious entertainer.

Ranging from simple routines to elaborate maneuvers, these tricks will appeal to the person with a penchant for performing as well as to the individual with a curiosity about how magic works. (Will Goldston)

Classic magic acts include:
The Vanishing Bird Cage
The Chinese Egg Bag Trick
The Flying Coin
The Bodiless Lady Illusion
The Flying Coin
The Talking Scull
And hundreds more!