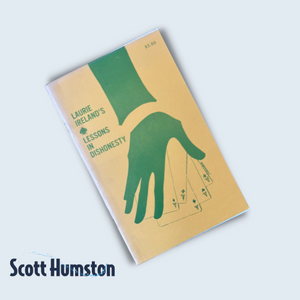 PUBLISHER/MANUFACTURER
Magic Inc.
FORMAT/BINDING
Softcover
CONDITION

Used

DESCRIPTION

Become a master of card manipulation with Ireland's unparalleled expertise, now at your fingertips. Discover authoritative instructions on essential techniques such as bottom and second dealing, along with a captivating gambling routine and comprehensive guidance on the false count.

Immerse yourself in this invaluable resource, meticulously accompanied by intricate line drawings by Steranko, complemented by a collection of true-to-life photographs. This is more than just a guide – it's a journey into the artistry of card manipulation. A must-have for every dedicated card enthusiast, ensuring its rightful place in the library of every card aficionado.