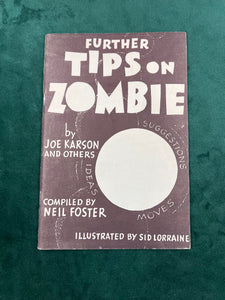 In good shape. No tears. Original printing, ©1940 by Abbotts Magic Company. Illustrated by Sid Lorraine. Compiled by Neil Foster.
From Lybrary.com:
The original book Tips on Zombie was published in 1946 and has long been out of print. The Abbott Magic Company acquired the rights to this book. Neil Foster compiled the additional material and the book has been revised and greatly enlarged. Magic's Number One illustrator, Sid Lorraine, contributed the more than sixty detailed illustrations. If you are interested in performing the famous "Zombie" effect, you must have this ebook. The contents include:
Zombie
Zombie Gimmicks (6 different types)
The Start on the Arm
Zombie Vanish (4 methods)
The John Calvert Story
The No-Gimmick Zombie
Will Desmond's Routine
The Snake Basket Zombie
Device for Zombie Act
Zombie Routine and Patter
Zombie Presentation
The Globe of "MU" Patter Story
Pocket Zombie-Sphere
Ball Wiggles
Comedy Zombie Balloon
Full Stage Floating Zombie
The Ball Shines
If Your Finger Hurts
The Skull Idea
A Hole in the Cloth
The Luminous Idea
Like a Magnet
Juggling the Ball
The Gimmick Move
Zombie Through the Hoop
Spirit Ball
Finger Suspension of the Ball
Bouncing Ball Between the Hands
No Base Idea
Seven Additional Ideas


Note: Colors may vary depending on stock packed.