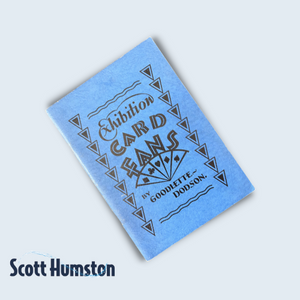 PUBLISHER/MANUFACTURER

Haines House of Cards

FORMAT/BINDING
Paperback

CONDITION

Used

DESCRIPTION
 In the pages of this book authored by Goodlette Dodson, you'll uncover a wealth of knowledge dedicated to the art of card fanning. Discover the ideal selection of cards perfectly tailored for this mesmerizing technique. Delve into the essential guidance on maintaining your decks in pristine condition and nurturing the well-being of your hands.

But that's not all – this comprehensive guide goes beyond the basics. It provides a diverse array of methods meticulously designed to ensure flawless and captivating card fans. With detailed insights and step-by-step instructions, you'll master the intricacies of this elegant performance art. From selecting the right cards to honing your skills, this book is your gateway to achieving picture-perfect fans that will leave your audience in awe.