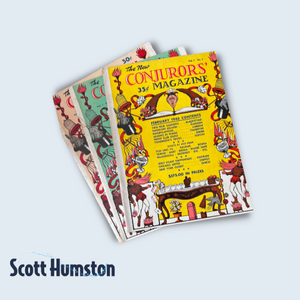 PUBLISHER/MANUFACTURER


FORMAT/BINDING
Staple
CONDITION

Used-Good/Fair 

Condition 
DESCRIPTION

These three issues are collectors items! Get ALL three for one low price!

 

A brief history: Discover the enchanting world of magic with Conjurors' Magazine, a revered periodical that has captivated readers since 1945. From its rich history dating back to 1791, when it was founded as Locke's Conjuror's Magazine, to its revival in 1906 as Houdini's Conjurers' Monthly Magazine, Conjurors' Magazine has been a trusted source of knowledge and inspiration for magicians worldwide. Immerse yourself in the secrets of illusion as you explore our extensive collection of articles, interviews, and mesmerizing illustrations by renowned magicians. With its unparalleled legacy and invaluable content, Conjurors' Magazine is the ultimate companion for both aspiring magicians and seasoned performers alike.