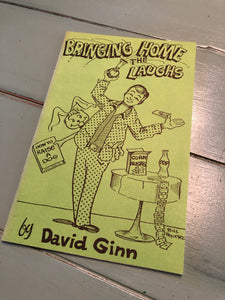 ©1976 by David Ginn, 4th printing March 1988 
In good condition.
A classic by friend David Ginn. Filled with funny bits of business to bring home the laughs in your shows.
You will enjoy learning over 35 comedy items with standard props such as zipper banana, mouse traps, circle to square, ordinary matches, hand buzzer, balloons, rubber thumb, wilting flower, sock purse, front penny, stage money, electric deck, rubber rock, giant fly, flat rabbit, flash bills, rubber chicken, sealed liquid glass, and a honk horn. Whether you work as a magician, clown, juggler, MC or other kidshow entertainer, you'll find plenty of good children's comedy magic in these pages.